Each Aviationtag has thousands of take-offs and landings behind it as a fuselage segment of an aircraft before it gets its final format as a travel essentials and goes on new journeys. The material for the Aviationtags is cut from retired aircraft on aircraft boneyards around the world and shipped to the production facility in Cologne.

There, the old aircraft parts are manually dismantled, cut, punched, polished, and laser engraved. In this upcycling process, aircraft aluminum turns into aviation history that lives on as a luggage tag or on a key-chain.
Our latest Aviationtag Products
This is how Aviationtags are created.

Unsere Kollektionen
Hier seht Ihr eine Übersicht unserer verschiedenen Aviationtag Kollektionen. Ob für den Vielflieger, den Privatpiloten oder den Militärsammler - für jeden ist ein Anhänger dabei.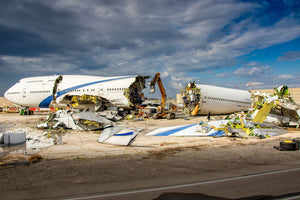 Ehemalige El Al Boeing 747
Eine Auswahl unserer Projekte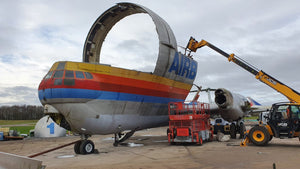 Aero Spacelines Super Guppy 1
Eine Auswahl unserer Projekte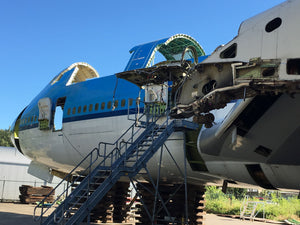 Ehemalige KLM Boeing 747-400M
Eine Auswahl unserer Projekte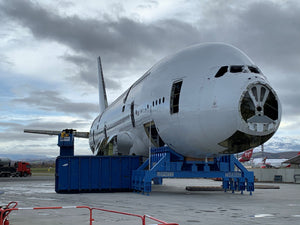 Eine Auswahl unserer Projekte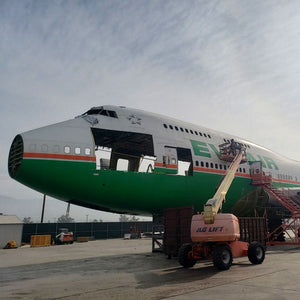 Die letzte EVA Air Boeing 747
Eine Auswahl unserer Projekte
About Aviationtag
We have been using original aircraft parts since 2006 to create sophisticated and unique collector's items.
» Read story
B2B
Do you want to sell Aviationtags in your store or online shop? Then you will find all important information here.
" Click here
FAQ
Do you have any questions about the Aviationtags, shipping, payment, etc.? Here you will find the answers to the most frequently asked questions.
» To the FAQs
Practical
Our accessories
For using our Aviationtags as luggage tag or on a keychain, we offer practical accessories.
Discover
Aviationtag (B)logbook
In our blog, you can find interesting background stories about the upcycled planes and their history. But we also have interviews with pilots and guest posts from bloggers. Check it out.